Music Lessons @ Selah Music Studio

*Look for me on Lessons.com - Selah Music Studio
---

What I Teach:

-Piano - classical, Christian worship (chord chart), improvisation

-Beginning Violin

-Percussion - come to your house if you have drumset, practice pad at my apartment

-Beginning-Intermediate Acoustic Guitar

-Music Theory

-Songwriting & Composition


My Rate:

$20/30 minutes

$25/45 minutes

$30/60 minutes


Musical Background & Teaching Style

Piano

I began exploring piano around middle school, with the help of some keyboard knowledge from school percussion (xylophone, marimba, etc, where I learned to read music). I found the possiblities fascinating on piano, with the various chords and chord progressions that could be made.

I have developed a method of teaching people to play breaking it down into 3 simple components: Chord, Rhythm, and Melody - the CRM method. Once a beginner learns Chords and Rhythm with the left hand (usually), and Melody with the right hand (usually), it will free them up to be able to put the hands together and play beautiful music.

I worked on some classical pieces in high school with a private teacher - some Rachmaninoff, Chopin, etc... In college, I took classical piano lessons as well as part of my first major of Music Composition at the University of Oklahoma (2008-2010), and then I continued classical piano at Oklahoma Wesleyan University, being there from 2010-2014. I graduated with my BA in Music in the spring of 2014, with a piano emphasis, as I performed a senior recital for piano, as well as some vocal+piano pieces.

My senior recital program included the following pieces: Beethoven's Sonata Pathetique - 3 movements, Bach's Partita 1 - Praeludium, in B flat, …tude in C-sharp minor by Alexander Scriabin, Gershwin's Prelude 1 (Allegro ben ritmato e deciso), George Winston's "Dubuque", feauturing special muted string effects, Grieg's Notturno, Op. 54 No. 4, and George Winston's "Graduation". It also included the following vocal+piano pieces: The Impossible Dream, from Man of La Mancha, music by Mitch Leigh and lyrics by Joe Darion, Edelweiss, from Sound of Music, You Raise Me Up - music by Secret Garden's Rolf LÝvland and lyrics by Brendan Grahamand, and Blessed Assurance.

To view and hear my senior recital, click here.


Violin

I began violin in 10th grade, after moving to Colorado and there not being a good band at the school I was at. This gave me the opportunity to do violin, which I had wanted to play. I remember taking home the violin the first time, and then working through the beginner's instructional book myself, learning where the different notes are on the strings. I loved it, and was able to learn quickly. Eventually I got to the point where I was able to improvise with ease on the violin, just expressing what I felt. I played violin in high school orchestra for a time.

I have used Suzuki violin material for a beginner in the past, but am flexible on material. We would learn scales as well.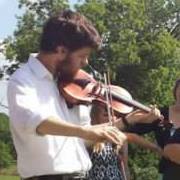 Percussion

I began percussion in 6th grade, in the school band, and trained to learn the different rhythms on snare drum, as well as learning to read music for the xylophone - first training just with the other percussionists. As we progressed, we then joined the rest of the band, and started playing as a group. I was able to be the first chair percussionist at all-city band in plano, Texas in 8th grade. In 9th and 10th grade, I played snare drum in the drumline for marching band. I also took a drumset class, and became good at playing drumset, and can teach for drumset if you have the set. I do not own one at the time. I can teach "snare drum" via a practice pad on a stand at my studio.


Acoustic Guitar

I do not remember when I first began learning chords on guitar, but I would borrow my Dad's guitar and practice. In college, I also took private guitar lessons at Oklahoma Wesleyan University, learning chords, scales, and songs. I teach chords, strumming styles, scales, songs (chord charts), and bluegrass melody songs - string-plucking.


Music Theory

I LOVE music theory! It is the foundation for how great, beautiful music is made. Music Theory is a broad term, but I would be teaching the foundational aspects of it, including note names, scales, keys, key signatures, chords, and chord progressions. I took Music Theory 1 through 4 at the University of Oklahoma.


Songwriting

I am singer-songwriter, and I love the vast variety of things one can convey with a song (vocal+piano or guitar). Joining lyrics with chord progressions can truly be a powerful thing. I discovered I could write songs in high school, and began doing so, and have been doing so since, on and off. (I am 26 now). Check out the Live Music & Shows page to listen to my vocal+piano or vocal+guitar songs, with other keyboard instruments added to the songs as well.

As for teaching songwriting, I would cover the basic "building blocks" that are used to build a song, including Verse 1, Verse 2, etc... Chorus, Bridge, Instrumental, Intro, and Outro. After showing examples of these building blocks, we would need lyrics, whether from Scripture or original lyrics, and then I would begin to show the student how they might craft appropriate chord progressions and melodies, using the building blocks. Or, a song could be written without lyrics, just chords and melody, but that gets more into composition...


Composition

Composition involves writing notes down on sheet music, but there is a lot of other aspects that go into composing. I would have fun with the student, giving them different choices to make, deciding what the piece will be about, and then the time signature they want, whether it is a major or minor key, what tempo, chord progression, etc.. AS they make these choices, then, I might write the left hand of a piano piece, and have them write the right hand, and ease them into composing in that way!